Do's & Don'ts
Do:
wear flip flops all year round
Don't:
wear socks with flip flops. If you can't handle the cold you can't "do" flip flops all year.
Do:
drink a cup of a coffee every morning
Don't:
spill coffee on the carpet creating a new lake erie
Do:
eat as much chocolate as you want
Don't:
stress about your weight 24/7, in the grand scheme of life it's not worth it
Do:
take as many pictures as you can - life moves fast!
Don't:
post all of said pics, not everyone loves them as much as you do
Do:
watch Big Love on HBO - awesome show
Don't:
watch the movie The Animal - dumb
Do:
eat an apple everyday
Don't:
waste food!
Do:
relax about parenthood - trust your instincts
Don't:
call the dr. for every little thing - trust your instincts
Do:
wear comfy slippers, even if they are ugly (I kept a pair in my closet for months and dug this out this week - super comfy!)
Don't:
change a diaper right after a baby wakes up
Do:
give them a 5 minute pee grace period - or you'll just be changing them again (or get peed on!)
Do:
buy a jumperoo
Do:
own at least one designer purse (coach for me please!)
Don't:
set your purse on public bathroom floors - yuck!
Don't:
forget the little things
Don't:
forget to pee before you leave the house! :)
Do:
keep the lady regions nice even post baby - it will make you feel sexy even when you have a squishy belly covered in fading stretch marks.
Don't:
do a "quick shave" with a new razor on said lady region - ouch!
Do:
wash formula bottles daily or they will stink
Do:
have a bottle of Abor Mist in your fridge at all times
Don't:
forget that you haven't had a drink in a LONG time - you will get tipsy off one glass
Do:
read Mama Kat's writer's workshop prompts weekly
Don't:
write on a topic if it doesn't appeal to you, the post will suck and you won't publish it and you (okay fine, I...) will have a handful of drafts sitting around. Boo.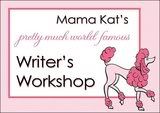 Blogger Templates